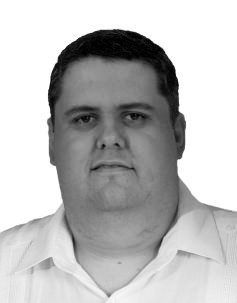 Nelson De Freitas
Technology Consulting Specialist
IT Specialist with a wide experience offering consulting services, technical support, helpdesk and all related areas to information technologies, such as: communications (Networks, VPNs, routers, Internet Access, NAS, VoIP), security (IPsec, WAP, Radius, LDAP, SSL, Active Directory), Web Technologies (Apache, PHP, CSS, Javascript, Ajax, Perl), servers (WEB, Active Directory, SAMBA, FTP, DNS, Intranet, Linux, AIX, SCO, HP UX, Linuxware, RAID), DB Manager (Mysql, PostgreSQL, Oracle, Informix, DB2, Microsoft SQL Server, Access, MariaDB), WEB (SEO, Joomla, Wordpress, Magento, Prestashop, Dolibarr, Vtiger, SugarCRM, SMF, WooCommerce, OSCommerce, VirtueMart), Mobile Devices (Swift), Hardware (overclock, Server Settings, communications devices, security devices), preventive and corrective Maintenance, Additionals Knowledge in Digital Marketing, Marketing, Corporate Image, Corporate Identity, Strategic Management Consulting, Great Interpersonal Relationship, Quick Adaptation to new work environments, Good Stress Management under pressure, Staff Management, very motivated and always proactive facing all new challenges.
Jobs
Independent Consultor - Coaching Technology
Independent
In these 11 years we have infinity experiences and news knowledge by the technologies advances in the IT consoulting world, I haved the challenge of grow the technology platform infraestructure in almost 20 companies with diferents professional areas, this include from the buy of hardware until comunications, support, helpdesk in site for every infraestructure, Additional to the management of the web technologies for differents customers in severals areas, too technicals residentials assist in site for exclusive customers. Some proyects about training for customers and personals in differents areas of technologies information world.
Medica+PC (Fenixsys Systems C.A.)
Diretor
During these 8 Years of work for the company there have been many activities of development and resolution of problems for corporate clients in all the diversity of activities that can perform an IT outsourcing for infrastructure, have managed a multitude of customers with full success at Over the years and have stabilized and maintained their infrastructure optimally and efficiently at a really low cost thanks to preventive activities and a robust methodology of work and configuration in their facilities.
Tecsys Latin América (Cerca Technology)
IT Manager
These six years in Tecsys Latin America have several positions, in the position of senior software engineer implementations were made and support service was provided for the products that TLA (Elite Series DMS, WMS, TMS, Eliteview, Foursite, Provia WMS) , These works involved administration and installation of operating systems and database as well as programming and business intelligence in more than 15 clients throughout the American continent.
In the position of IT Manager, we do installations of windows / windows server / unix / linux, replication server implementation, backup servers, Active Directory / Samba servers, database servers, development servers, Web servers , Print servers, Vpn between the offices of Chile – Venezuela – Colombia, maintenance of infrastructure, maintenance of administrative and HR software, CRM Software, pricing software, among other configurations and routine internal activities in Venezuela office as well as in The one of Colombia of parallel form.
Excelsior Gama Supermercados
Various positions
During these 7 years of work I had a high level of teaching with regard to customer service, values and work integrity, perform a lot of positions inside and outside the sales floor in stores, I was commissioned by a warehouse and performed I am looking for a job that will enable me to be able to work under pressure.
Educations and Courses
Computacion Univercomp
Oracle 9i: Installation and Administration
This Course was designed for give a solid base about of basic tasks of the database. In this training learn to design, create and managed a Oracle Databases.
Training Scope:
Use of the funtions by globalization support.
Manage tablespaces, segments, extensions y blocks
Manage users, permisologies and resources
Create a operative database
Start and Stop a instances and databases
Manage database files
SoftNet Consultores
Linux: Network
This Course training in the necessary activities for the Administration and Basic Configuration of TCP / IP in any System based on Unix / Linux. The focus is the responsibilities and tasks of the Administrator, the Basic Services and Functions to be Administered, and the Procedures for Managing and Configuring the TCP / IP Services and Functions are trained.
Content:
Design, configuration and management of addresses, masks, names and subnets.
Configuration and basic administration of DNS.
Configure, modify, activate, manipulate and manage TCP / IP Network Services.
Verify and monitor the network interface, its services and logs.
Configure, modify, enable, manipulate and manage TCP / IP Network Routing Services.
Basic Configuration of Unix-based Systems as Gateway-routers
Configuration and administration of NFS.
Configuring and Managing Remote Printers.
Detect and resolve Connectivity issues.
SoftNet Consultores
Linux: Systems Management II
Participants will be taught to combine the commands, shells and utilities of any Unix / Linux-based System, so that they are more efficient and versatile in the operation of the System, and are prepared to perform advanced operations and basic administration tasks. . In addition to the Administration of File Systems, Partitions, Test and Development Environments, Log Management, Dependency Resolution, Demon Management and Services, LPD, Samba, Windows Integration and other Operating Systems, among others.
SoftNet Consultores
Linux: Systems Management I
It provides the participant with the knowledge, procedures and practical experience necessary for the Administration and Basic Configuration of Linux-based Systems.
Content:
Periodic Procedures of Administration and Basic Configuration of the System.
Fundamentals of Administration and Basic TCP / IP Network Configuration.
Management and Creation of Accounts for Users.
Management and Configuration of Terminals.
Management and Configuration of Printers.
Backup and Recovery of Files.
Security Problems and Access Control.
Royher - Authorized Education Center
Unixware 7 - System & Networking Administration
Unixware Version 7, Network Management, User Management, File and Partition System Management, Communication Services Management, Printers, Connectivity, Remote Printing, Routing, Graphics Environment, DNS Services, NFS, SMB, LPD, log management, Raw Partitions, Permisology, Shell.
Success Workshop - Dr. Camilo Cruz Ph. D
The Pleasure to Sell and Serve with Quality
2nd Ibero-American Linux Conference
LinuxWeek 2K
4 Days of Conferences and Tutorials to the world related to Linux.
Umeet2000 - UniNet
Participation 1st International Unix Congress in UNINET